Centrodyne Silent 610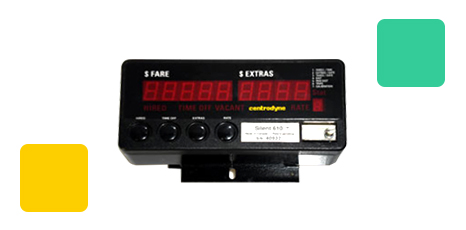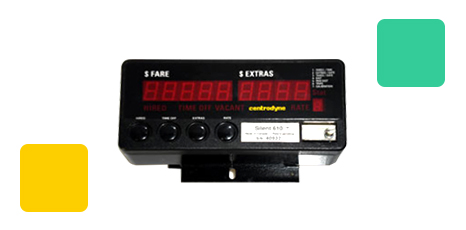 sold out
Centrodyne Silent 610
The "Silent 610" is the most rugged and reliable meter on the market today. With 10+ years of road service and over 100,000 installed units the S610 has earned its reputation from the frozen Alaskan tundra to the scorching desert of Nevada. Most of the largest fleets across North America rely upon Centrodyne's quality products and unrivaled customer service to help keep their operation running worry-free. Whether you require one meter or one thousand you can benefit from the peace of mind that comes with owning a Centrodyne Silent 600 series taximeter.
Specifications:
Dimensions: 158mm x 71.75mm x 36.6mm (6.22" x 2.82" x 1.44")
Displays rate digit: 7-segment LED
Mounting: in, on or against vehicle dashboard
Operating temperature: -30°C to 70°C (-22°F to 158°F)
Power: 9 - 16V DC (nominal) 20V DC max. (short term)
Silent 620 FEATURES
☻ Self programmable fare structure (no calculations required)
☻ Automatic calibration ☻ Rate lock-out when hired ☻ Programmable tax rate and method
☻ Fare and tax totals display ☻ Fare inhibit above speed threshold ☻ Eight (8) independent rates
☻ Auto rate change based on fare, distance, and time of day ☻ Additional relay drivers output for roof lights
☻ Programmable display time-out ☻ Seven (7) digits statistics display
☻ Daily erasable statistics ☻ Password protection
☻ RS232 communication port
☻ Signal divider/amplifier included
☻ Sensors: electronic, magnetic or mechanical
INSTALLING A TAXIMETER MIGHT REQUIRE TO USE THE FOLLOWING ACCESSORIES. MORE INFO HERE.
Centrodyne Vehicle Speed Signal Divider Y060
The "Vehicle Speed Signal (VSS) Divider" unit receives the speed signal from the vehicle speed sensor and converts it to a train of pulses readable by the taximeter, on board computer, etc.
Centrodyne Z059 OBD - Vehicle Speed Sensor (OBD-VSS)
The Z059 helps you find the VSS signal-pulse that is required by a Taximeter to understand distance, all you need, is to plug it into the OBD port on any CAN vehicle and your installation is complete.
Please note that generally, vehicles made after 2008 may use the CAN only version. The CAN/ISO unit is intended for use only in older, pre 2008, Asian model vehicles (Toyota, Honda, Nissan, etc.). If you are not sure which model your vehicle requires, please contact us.
DON'T FORGET
THE LONG LASTING
TAXI PAPER